︎ WARRIORS ︎
To create a Warrior, you must determine your Oath, Weapon & Skills.

In addition, you begin with $500.

Record your results on a Character Sheet (or scratch piece of paper) as you proceed.

"AN OATH IS WHAT DEFINES YOUR WARRIOR,
YOU KNOW? IT ALSO REFLECTS HOW YOU HANDLE YOURSELF
WHEN THINGS GET DICEY..."

OATH
Choose an Oath from the list below & note its trappings. You are bound to your Oath, largely informing your beliefs & actions as a Warrior. This is a compulsory roleplaying component which you may not betray without good reason.


♢ Hard Target
You are a gunfighter. You live & die by the firearm. As such, both '1' & '4' indicate a Wound on your target during a Firefight.


♢ Fortune & Fame
You were born lucky, marked for greatness. As such, you are exempt from ever suffering Snake Eyes (See Disadvantage rolls). Simply re-roll all Snake Eyes results.

♢ Speed Kills
You are a high-speed maniac. You automatically begin with an additional Skill —

Vehicle Handling
.
As such, you are the Driver of your Gang
(see
Vehicle Combat
).
WEAPON
To determine your starting Weapon, roll 1 D4:


1. Pistol — Blast (3) ⬤ ⬤ ⬤
2. Rifle — Blast (5) ⬤ ⬤ ⬤ ⬤ ⬤
3. Shotgun — Blast (8) ⬤ ⬤ ⬤ ⬤ ⬤ ⬤ ⬤ ⬤
4. Machine Gun — Blast (10) ⬤ ⬤ ⬤ ⬤ ⬤ ⬤ ⬤ ⬤ ⬤ ⬤

Each Weapon carries a Blast number, representing the amounts of shots it may fire during a Firefight at a single target. For each Blast ("⬤") roll 1D4: each result of '4' indicates the shot finds its mark, dealing 1 Wound. Otherwise, it misses. Each Warrior may take up to 5 Wounds before dying & may only use one Weapon at a time.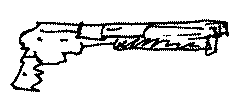 SKILLS

Choose 3 Skills from the following list:
Burglary
Double-Talk
Escape
First-Aid
Find Item
Intimidation
Listen Closely
Mechanical Smarts
Observe Surroundings
Sneak-Around
Streetwise
Vehicle Handling

Continue to Gangs...